WAMPUM
We offer four types of wampum, the genuine quahog wampum, clamshell wampum, simulated wampum, and glass wampum


---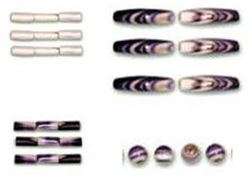 Genuine Quahog Wampum

Made from genuine Quahog shell! This genuine quahog wampum is available in 2 colors so you can create designs just like in the old days. Purple ranges from light to dark in color and the Cream White is often streaked with some purple, which makes it really beautiful for necklaces, chokers, bracelets, belts, earrings and various jewelry items.


---
---
---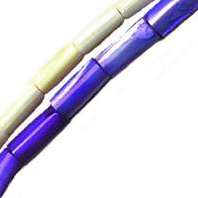 Clamshell Wampum - Highly prized by early Eastern Woodland tribes, wampum was used for necklaces, chokers and other ornaments including "Peace" belts, which were presented to another tribe to seal peace treaties. Our Wampum is perfect for any of these uses, as well as bracelets, earrings, etc. Each strand is about 14" long and contains approximately 40 beads, 4x9 mm in size. Available in white color (105) or dyed purple (115) to simulate this more valuable color.
---
Clamshell Wampum Strand - Use drop box below to choose color
---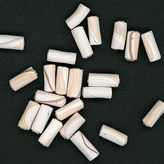 Simulated Wampum - Affordable, individually-made simulated wampum beads that actually look like the Native-made wampum beads of the 1600s. These beads are easy to work with and make beautiful authentic looking belts, bandoliers, armbands, etc. The beads measure 1cm long x .5 cm in diameter and are made from hand-mixed acrylic, are sturdy and have the same color, stripes and variation as real quahog and whelk beads - perfect for custom work and museum quality repairs. (White is pictured) $3.95/25 hand-mixed acylic beads
---
Simulated Wampum - Use drop box below to choose color
---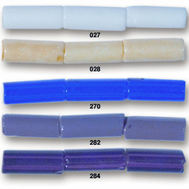 Glass wampum was a very popular trade item and ours is as close to the original as possible, measuring 3.5mm x 10mm, or approximately 1/8" diameter x 3/8" long. Great for necklaces, chokers, belts, bracelets, earrings, and more. Approximately 120 per ounce.
---
Glass Wampum - Use the drop box below to choose color.
---